PELATIHAN KEWIRAUSAHAAN PEMBUATAN MINUMAN THAI TEA DAN PERHITUNGAN HARGA POKOK PRODUKSI PADA IBU-IBU PKK RT 2 RW 5 PERUMAHAN MUARA SARANA INDAH JETIS MULYOAGUNG DAU MALANG
Indrayati Indrayati

POLITEKNIK NEGERI MALANG

Ludfi Djajanto

Politeknik Negeri Malang

Basuki Rachmat

Politeknik Negeri Malang

Kuni Utami

Politeknik Negeri Malang

Suryadi

Politeknik Negeri Malang
Keywords:
Training, Entrepreneurship, Thai Tea, cost of production.
Abstract
Entrepreneurship Training in making Thai Tea and calculation of the cost of production is one of the efforts to provide knowledge for PKK mothers to improve nutrition or endurance as well as increase income for PKK mothers in Muara Sarana Indah housing Mulyoagung Dau Malang. This effort to improve nutrition is the responsibility of universities, especially Malang State Polytechnic in order to increase endurance by making their own processed food at a lower cost. This PKM was carried out on August  14 and 15, 2021.  
References
Baridwan, Zaki, 2004, Intermediate Accounting, edisi 8, Yogyakarta.

Baridwan, Zaki, 2004, Sistem Akuntansi, Edisi 3, Yogyakarta

Buchori Alma, 2009, Kewirausahaan, Penerbit Alfabeta, Bandung.

Dun Steinhoff, Ohn F. Burgess, 1993, Small Business Management Fundamental 6 th ed. New York. Mc Grawhill Inc.

Ebert J. Ronald dan Ricky Griffin. 2000, Business Essentials, New Yersey, Prentice Hall.

Mulyadi, Sistem Akuntansi, 2000,Penerbit YKPN, Yogyakarta.

Sujuti, Yahja, 1997, Penelitian tentang Kewirausahaan dalam Rangka Pengembangan Disiplin Ilmu Kewirausahaan, Makalah Seminar Nasional, jatinangor, IKOPIN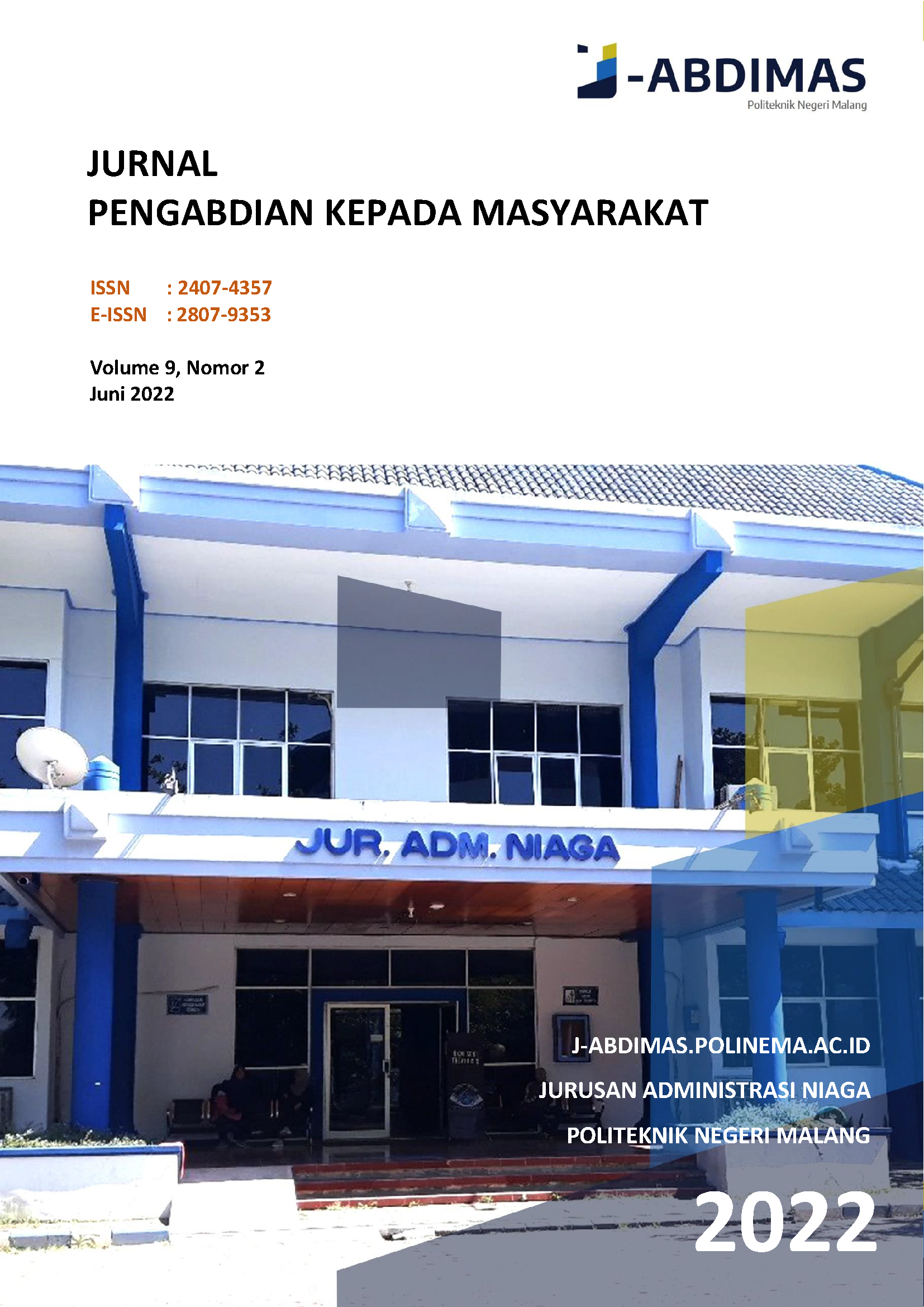 Copyright (c) 2022 INDRAYATI ENY, Ludfi Djajanto, Basuki Rachmat, Kuni Utami, Suryadi
This work is licensed under a Creative Commons Attribution-ShareAlike 4.0 International License.
Authors who publish with this journal agree to the following terms:
Authors retain copyright and grant the journal right of first publication with the work simultaneously licensed under a Creative Commons Attribution-ShareAlike License that allows others to share the work with an acknowledgment of the work's authorship and initial publication in this journal.
Authors are able to enter into separate, additional contractual arrangements for the non-exclusive distribution of the journal's published version of the work (e.g., post it to an institutional repository or publish it in a book), with an acknowledgment of its initial publication in this journal.
Authors are permitted and encouraged to post their work online (e.g., in institutional repositories or on their website) prior to and during the submission process, as it can lead to productive exchanges, as well as earlier and greater citation of published work (See The Effect of Open Access).