PELATIHAN MEMBATIK TEKNIK ECOPRINT BAGI IBU PKK KELURAHAN MERJOSARI KECAMATAN LOWOKWARU KOTA MALANG
Alifiulahtin Utaminingsih

Universitas Brawijaya

Wike Wike

Universitas Brawijaya

Farida Nurani

Universitas Brawijaya
Keywords:
perempuan, wirausaha, kreatif, inovatif, batik shibori
Abstract
Wirausahawan sukses harus memliki jiwa berwirausaha yang kuat, karenanya senantiasa berfikir dan  bertindak kreatif dan inovatif. Seorang wirausaha bisa terbentuk karena bakat atau dari proses karena pengaruh lingkungan, sehingga memunculkan pengetahuan, sikap serta pengembangan keterampilan, yang pada umumnya memiliki ciri-ciri: gemar berusaha, tegar walaupun gagal, percaya diri, memiliki self determination atau locus of control yang baik, berani menanggung segala risiko, serta memandang perubahan sebagai suatu tantangan dan peluang. Ibu-ibu PKK Kelurahan Merjosari Kecamatan Lowokwaru Kabupaten Malang berada dalam lingkungan yang mendukung dari aspek sumber daya manusia untuk dilaksanakan pelatihan membatik dengan teknik shibori yang tujuannya adalah meningkatkan pendapatan serta mengisi waktu luang dengan kegiatan yang bermanfaat,.. Hal ini  karena alat-alat mudah didapatkan dan bahan-bahan untuk pelatihan cukup terjangkau Permasalahan yang ditemukan adalah belum optimalnya pengembangan life skill berupa peningkatan keterampilan ibu-ibu PKK, oleh sebab itu perlu untuk dilakukan pengembangan kapasitas diri bagi ibu-ibu PKK Politeknik Negeri Malang dengan menumbuhkan jiwa wirausaha berbasis ekonomi kreatif dan inovatif yang bernilai ekonomis, yang dilakukan melalui keterampilan membatik shibori. Shibori merupakan teknik membuat motif batik yang dilakukan khas Jepang, yang hampir sama dengan produk yang lain di Indonesia, seperti  batik sasirangan, batik ikat dan lain-lain. Ada berbagai teknik shibori yang bisa dipelajari sehingga kedepannya mampu menciptakan wirausaha perempuan  yang handal guna meningkatkan pendapatan keluarga.  
References
Carre, M.A., and Turik, A.R., 2005, The Impact of Entrepreneurship on Economic Growth, International Handbook of Entrepreneurship Research, Internet: m.carre@mw.unlmaas.nl;thurik@few.eur.nl
Dharma, Surya, 2002, Paradigma Baru MSDM: Pengembangan SDM Berbasis Kompetensi, Editor A. Usmara, AMARA BOOKS, Jogyakarta
Gede, Prama, 2006, Sifat Dasar dan Kemampuan Wirausaha, Usahawan 09/XI/1/1996
Howell, J.L. and Higgins, C.A., 2000, Champions of Changes, Bussiness Quarterly,Vol. 5 (4), pp: 31-36
Kao, R.W.Y., 2005, Entrepreneurship: A Wealth Creation and Value Adding Process, Prentice Hal, Singapore
Kautzar, Dinda,Siti,. 2017. Eksplorasi Teknik ShiboriPada Pakaian Ready to Wear . E-Proceeding of Art & Design. Volume 4 Nomor 3. Halaman: 905-2920
Lambing, P. and Kuehl, C.R., 2000, Enptrepreneurship, Prentice Hall, Upper Saddle River: NJ 07458
Maziyah, Siti. Indrati. Sri. Alamsyah. 2019. Implementasi Shiboridi Indonesia. Jurnal Kiryoku. Volume 3 Nomor4, 2019. Halaman 214-220.
e-ISSN: 2581-8960.
p-ISSN:2599-0497. https://ejournal.undip/index.php/kiryoku
Mitrani, A.,Daiziel, M., and Fitt, D., 2003, Competency Based Human Resource Management Value Driven Strategis for Recruitment, Development, Development and Reward, Hay Group, London
Morrison, A., 2000, Entrepreneurship: What Trigers it? International Journal of Entrepreneurship Behaviour & Research, Vol. 6 (2), pp; 59-71
Meredith, N., 2008, The Practice of Entrepreneurship, International Labour Organization, Genewa
Shane, S., Locke, E.A., and Collins, C.T., 2003, Enrepreneurial Motivation, Human Resources Management Review, V0l. 13, pp; 257-279
Suryana, 2003, Kewirausahaan: Pedoman Praktis, Kiat dan Proses Menuju Sukses, Salemba Empat, Jakarta
Utaminingsih, Alifiulahtin. dan Maskan. Mohammad 2021. Kapita Selekta Kewirausahaan, Polinema Press, Malang
Walton, J., 2009, Strategic Human Resources Management, Prentice Hall, Jakarta
Yuniati, Ninik. Listiyo Yuwanto. 2028. Pemanfaatan Seni Shibori Sebagai Alternatif Psychological Health , Behavioral Health dalam Psichological First Aid Penyintas Bencana. Seminar Nasional Peranan Ilmu Psikologi dalam Penanggulanagan Bencana , Universitas Surabaya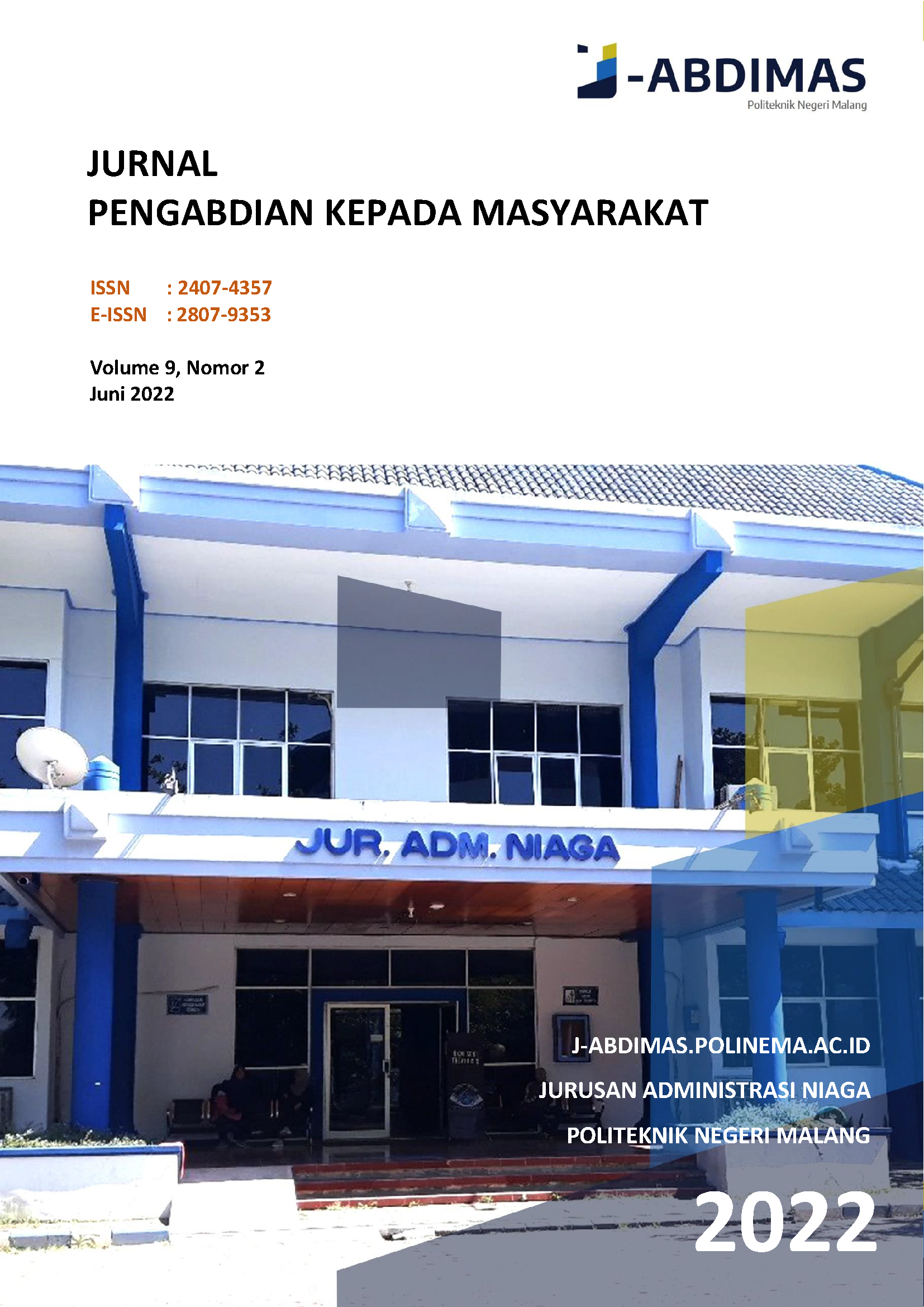 Copyright (c) 2022 Alifiulahtin Utaminingsih, Wike Wike, Farida Nurani
This work is licensed under a Creative Commons Attribution-ShareAlike 4.0 International License.
Authors who publish with this journal agree to the following terms:
Authors retain copyright and grant the journal right of first publication with the work simultaneously licensed under a Creative Commons Attribution-ShareAlike License that allows others to share the work with an acknowledgment of the work's authorship and initial publication in this journal.
Authors are able to enter into separate, additional contractual arrangements for the non-exclusive distribution of the journal's published version of the work (e.g., post it to an institutional repository or publish it in a book), with an acknowledgment of its initial publication in this journal.
Authors are permitted and encouraged to post their work online (e.g., in institutional repositories or on their website) prior to and during the submission process, as it can lead to productive exchanges, as well as earlier and greater citation of published work (See The Effect of Open Access).