EDUKASI MANAJEMEN BISNIS UNTUK MEMBANGUN KEMANDIRIAN FINANCIAL PANTI ASUHAN
Annisa Fatimah

Politeknik Negeri Malang
Keywords:
Business Management, Financial Independence, Entrepreneurial, Planning Strategies
Abstract
The purpose of this activity to provide knowledge sharing related to business management to build financial independence of the orphanage through business management training at the Al - Husna Orphanage - Malang. The first step for this program is to open the mind of the orphanage children that they must be financially independent after leaving the orphanage. In addition, the marketing potential for entrepreneurs is widely open for them. Fostering entrepreneurial ideas, planning strategies to marketing continue to evolve into today's society's needs. It is objected that the presence of lecturers and students who are also entrepreneurial practitioners will provide insight and meaningful new knowledge for all participants.
References
Firmansyah, A., & Roosmawarni, A. (2019). Kewirausahaan (Dasar dan Konsep). Qiara Media.
Haryanto, R. (2014). Buku Ajar Dasar Manajemen & Bisnis. Buku Ajar, 1–140. https://docplayer.info/33926651-Buku-ajar-dasar-manajemen-bisnis.html
Hidayat, W. W. (2020). Pengantar Kewirausahaan Teori dan Aplikasi. CV Pena Persada.
Kesrasetda. (2020). Pengembangan Jiwa Kewirausahaan/ Enterpreneurship Di Kalangan Generasi Muda. Kesrasetda@bulelengkb.Go.Id. https://kesrasetda.bulelengkab.go.id/informasi/detail/artikel/pengembangan-jiwa-kewirausahaan-enterpreneurship-di-kalangan-generasi-muda-19
Peraturan Pemerintah Nomor 44. (2017). Peraturan Pemerintah Republik Indonesia Tahun 2017. Pemerintah Republik Indonesia.
Sembiring, R. (2014). Pengantar Bisnis. In La Goods Publishing. www.prenandamedia.com
Weske, M. (2007). Business Process Management - Concepts, Languages, Architectures.
Widodo, A. S. (2012). Buku Ajar Kewirausahaan : Entrepreneur Agribuisiness - Start Your Own Buisiness. In Journal of Chemical Information and Modeling.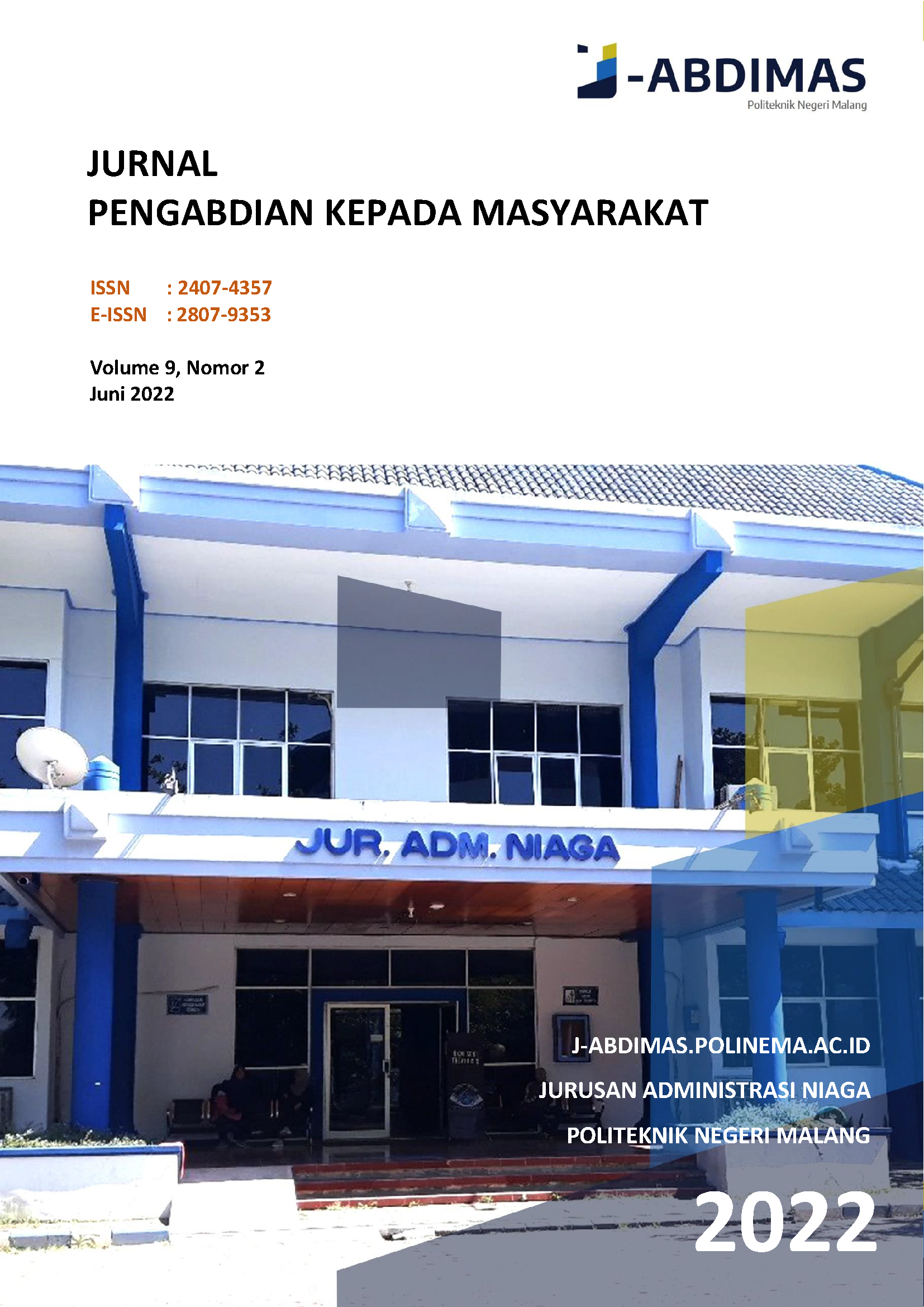 Copyright (c) 2022 Annisa Fatimah
This work is licensed under a Creative Commons Attribution-ShareAlike 4.0 International License.
Authors who publish with this journal agree to the following terms:
Authors retain copyright and grant the journal right of first publication with the work simultaneously licensed under a Creative Commons Attribution-ShareAlike License that allows others to share the work with an acknowledgment of the work's authorship and initial publication in this journal.
Authors are able to enter into separate, additional contractual arrangements for the non-exclusive distribution of the journal's published version of the work (e.g., post it to an institutional repository or publish it in a book), with an acknowledgment of its initial publication in this journal.
Authors are permitted and encouraged to post their work online (e.g., in institutional repositories or on their website) prior to and during the submission process, as it can lead to productive exchanges, as well as earlier and greater citation of published work (See The Effect of Open Access).